Marketing
If you build it, they will shop... Well, actually a bit of Marketing helps too.
Now that you have your site or store, Stearns Design can assist you in getting the word out!

Online Marketing: SEO

Search Engine Optimization (SEO) refers to a variety of practices, that will result in getting your site seen by search sites, such as Google.

These "Organic Search" results are shown free of charge and if done effectively, can save your company a lot of money. If you're thinking about SEO, the earlier the better. A great time to hire is when you're considering a site redesign, or planning to launch a new site. That way, you and your SEO can ensure that your site is designed to be search engine-friendly from the bottom up. Of course, a good SEO makeover can also help improve an existing site as well.
Optimizing a website may involve editing its content and HTML and associated coding to both increase its relevance to specific keywords, as well as removing barriers to the indexing activities of search engines. Stearns Design can create great SEO results for your site and uses a number of responsible, ethical and proven techniques to boost your site's visability.


Online Marketing: PPC


Pay Per Click (PPC) refers to listing ads on search sites such as Google, Bing/ Yahoo and their networks. These "Paid Search" ads are shown on search results pages, as well as on many sites on the Internet. This is a very effective way to quickly be seen online and if done effectively, can bring your company a lot of attention. Stearns Design can create great PPC results for your site, without breaking the bank!
Maintenance of ongoing PPC campaigns can be arranged as a Website Maintenance option.





Online Marketing: SMO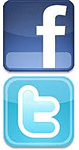 Social Media Optimization refers to using Facebook, Twitter and other social sites, as a way for your company to contact and communicate with your present and future customers. Stearns Design can get you set up and start your company on the path to reaching a greater potential audience.

Facebook Business Page
Creation of a Facebook Business Page includes a custom logo graphic.

Twitter Account
Creation of a Twitter account includes a custom background and logo graphic.
Google Analytics


Google Analytics is the enterprise-class web analytics solution that gives you rich insights into your website traffic and marketing effectiveness. Powerful, flexible and easy-to-use features now let you see and analyze your traffic data in an entirely new way. With Google Analytics, you're more prepared to write better-targeted ads, strengthen your marketing initiatives and create higher converting websites.



Print Ads


While online communication is very important, there are many businesses still well served by more traditional print advertising.
Stearns Design has the experience to create the affordable print ad you need for local or national use.

Take the next step today! Contact us and let's discuss what Stearns Design can do for you.